Public Meeting – Dodecanese Boulevard/Athens Street Stormwater Drainage Improvements Project
Date:

August 9, 2022

Time:

6:00 p.m. to 7:30 p.m.
Location:
City of Tarpon Springs Recreation Center

400 S. Walton Ave
The public is invited to attend a meeting about the Dodecanese Boulevard/Athens Street Stormwater Drainage Improvements project. The purpose of this public meeting is to provide an open forum for local residents and business owners to keep them informed about the project and to answer questions.  There will be an opportunity to talk with with Engineers and City representatives about the project.
As part of the City's Stormwater Action Plan (SAP), the Public Works Department has partnered with the Florida Department of Environmental Protection (FDEP) on a stormwater flood protection and water quality improvement project.  The project involves the following:
Installing a new stormwater collection system along Athens St. from Cross St. to Dodecanese Blvd. and along Dodecanese Blvd. from just west of Athens St. to just west of Arfaras St.
Construction of a new stormwater pump station located near the Dodecanese/Athens intersection
The new stormwater collection system and stormwater pump station will reduce the historic and frequent flooding at the following locations: Dodecanese/Athens intersection, and Athens St. from Dodecanese Blvd. to just north of Cross St.
Construction of trash and sediment separation box within the stormwater pump station will remove trash and debris to project the Anclote River.
Estimated Construction Schedule: Start Spring/Summer 2023, Duration 6-8 months. Construction schedule will be timed to minimize significant impact to peak tourist season.
A copy of the 30% construction plans are available for download here: Dodecanese Athens 30% Construction Plans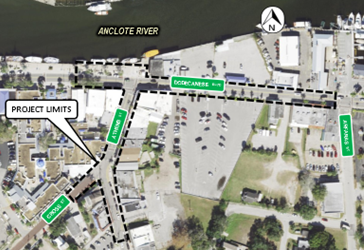 For additional information regarding this project contact:
Anthony Mannello
City of Tarpon Springs Streets and Stormwater Supervisor
727-942-5606