Upcoming Events Sponsored by the Tarpon Springs Recreation Division
2023 SUNSET BEACH CONCERT SERIES
Sponsored by AdventHealth North Pinellas Concessions are available for purchase. Alcohol and pets are prohibited.  Parking is limited onsite, so a free courtesy shuttle will deliver concertgoers to and from the beach and Tarpon Springs High School from 6-9 pm.  All Concerts begin at 7:00 PM.  In the event of inclement weather and the concert is canceled before the start time, the concert will be held the following Thursday. FREE!!
REMAINING 2023 CONCERT DATES: 
OCTOBER 5- Hit Me Up, High Energy Party Rock
NOVEMBER 2- North 2 South, Classic Rock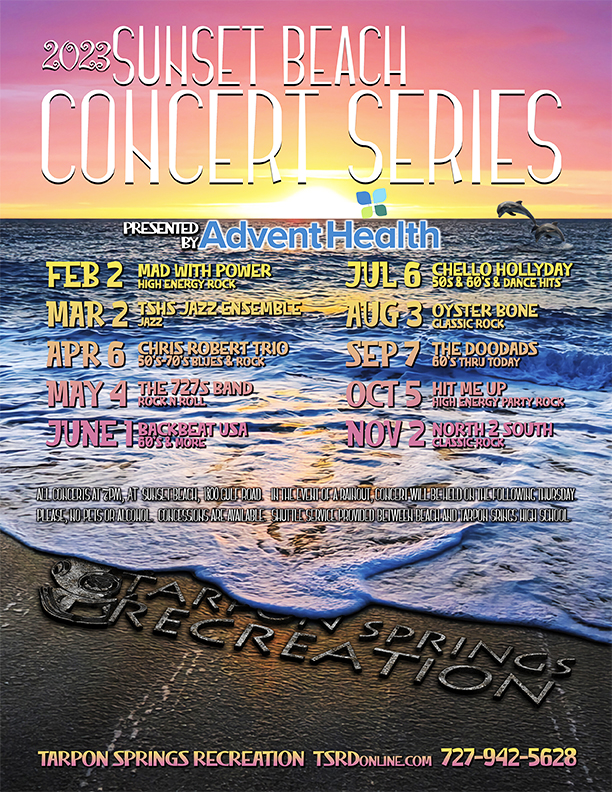 BEACH CLEANUP
The City of Tarpon Springs is teaming up with Keep Pinellas Beautiful to clean up Sunset Beach. Please wear closed-toed shoes and bring a reusable water bottle. Gloves and trash bags are provided.
Location:  Sunset Beach
Day & Time: Saturday, November 4th at 9 am
Fee: FREE
HALLOWEEN BASH
Join us for a safe alternative to trick or treating. Children may go from booth to booth to get Halloween treats. We will have bounce houses, concessions, crafts, and more.
Location: Tarpon Springs Sports Complex
Day & Time: Saturday, October 21st from 10 AM-1 PM
Fee:  FREE
SNOW PLACE LIKE TARPON SPRINGS
The biggest Christmas event in north Pinellas returns to beautiful, historic downtown Tarpon Springs. This FREE event gets bigger and better every year! Snow Place features snow slides, visit with Santa, write and mail your letter to Santa, Holiday movies, children's Christmas activities, DJ and Christmas music. Performances by local performers.
Location: Downtown Tarpon Springs
Day & Time: Friday, December 1st from 5-10pm
Fee:  FREE
TARPON SPRINGS BOAT PARADE
The 34th Annual Boat Parade will be held on Friday, December 3rd. Vessels will proceed down the Anclote River and into the bayous. There is no charge to participate, but all vessels must be registered to enter. Registration forms may be obtained at the City Marina and at the Recreation Division administrative office. Trophies will be awarded to the best-decorated boats. Call Duffy at 942-5628 for more details. The best viewing is from Whitcomb Bayou/Craig Park/Spring Bayou. Boats enter Spring Bayou around 8 pm.
Location: Whitcomb Bayou/Spring Bayou
Day & Time: Friday, December 1st at Approximately 8pm
Fee:  FREE
SANTA'S CALLING
Here's your chance to have Santa Claus call your children at home. Applications will be available online (TSRDonline.com) or at the recreation centers for Santa and his helpers to call between 6:00 pm and 8:30 pm on Thursday, December 7th.
**Volunteers are needed to help Santa call the children. Contact Ashley Harter at 727-942-5628 or aharter@ctsfl.us
Day & Time: Thursday, December 7th between 6:00 pm and 8:30 pm
Fee: FREE
CHRISTMAS PARADE– Chamber of Commerce
Christmas Parade in downtown Tarpon Springs.
December 9th at 10 am
HOLIDAY MOVIE IN THE PARK
The Tarpon Springs Recreation Department will holiday-themed movie at Craig Park. Grab your lawn chairs and come enjoy the show. Each family can pick an area to sit and enjoy the movie. The movie begins at Dusk.
Location: Craig Park
Day & Time: Saturday, December 16th, Movie begins at Dusk
Fee:  FREE