Upcoming Events Sponsored by the Tarpon Springs Recreation Division
2023 SUNSET BEACH CONCERT SERIES
Sponsored by AdventHealth North Pinellas Concessions are available for purchase. Alcohol and pets are prohibited.  Parking is limited onsite, so a free courtesy shuttle will deliver concertgoers to and from the beach and Tarpon Springs High School from 6-9 pm.  All Concerts begin at 7:00 PM.  In the event of inclement weather and the concert is canceled before the start time, the concert will be held the following Thursday. FREE!!
2023 CONCERT DATES: 
RESCHEDULED!  JUNE 8- BackBeat USA, 60's & More
JULY 6- Chello Hollyday, 50's, 60's & Dance Hits
AUGUST 3- OysterBone, Classic Rock
SEPTEMBER 7- The DooDads, 60's thru Today
OCTOBER 5- Hit Me Up, High Energy Party Rock
NOVEMBER 2- North 2 South, Classic Rock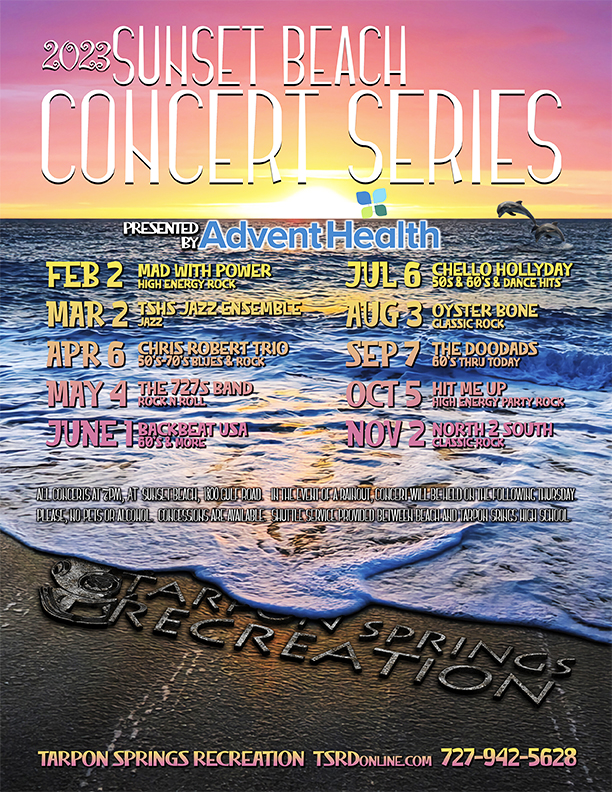 JULY 4TH PICNIC
Tuesday, July 4, 10am – 2pm
Craig Park
Please join us for our annual Fourth of July Picnic. We will have free food, drinks, bounce houses, water slides, music and fun! FREE!
PLAYDATES & POPSICLES
Thursday, July 20th & Wednesday, August 9th 11am – 1pm
Craig Park
Beat the heat and join us for games and popsicles in Craig Park! F
BEACH CLEAN-UP
Saturday, September 9th, 9am
Sunset Beach
The City of Tarpon Springs is teaming up with Keep Pinellas Beautiful to clean up Sunset Beach. Please wear closed toed shoes and bring a reusable water bottle. Gloves and trash bags are provided.  FREE!
BACK TO SCHOOL SPLASH &  ECO FEST
Saturday, September 16th, 10am – 1pm
Splash ark Field
Please join us for a celebration of going back to school. We will have water slides, music and fun! The City of Tarpon Springs is also teaming up with Keep Pinellas Beautiful to offer an educational and informative event about the environment. Free hotdogs for the first 300 people, then concessions available for purchase. Free tree for Tarpon Residents, with proof of residency. FREE!